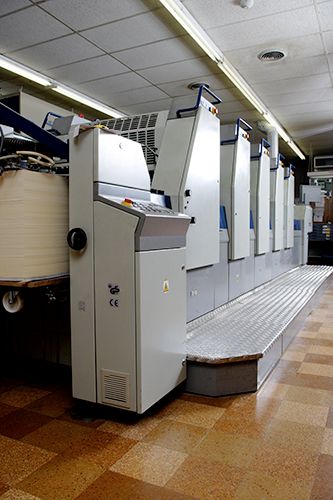 We utilize the most current technology in our industry. Our state-of-the-art equipment allows us to provide our clients with high-quality products on time and on budget
We realize that most people could care less about what model of press or copy machine we use, so long as they receive what they ordered. Still, we can't help being proud of our toys. Once you see how great they make you look, we hope you'll be proud of them, too.
---
Prepress
Macintosh And Windows Workstations

All have the most current application software and accommodate all types of removable media.

FTP Server

On location, our FTP server allows for fast and efficient transfers of your project directly to our prepress team.

Agfa Prepress Production Workflow

Our integrated PDF based workflow processes your job from proofing right through platemaking.

Automated Agfa Avalon Platesetter and C95 Gum Unit

Utilizing a thermal imaging process this platesetter images plates that require no hazardous developing chemistry, just a quick rinse with a preserving gum.

Epson Stylus Pro 9900 Color Printer

44" 8 color ink jet printer.

Epson Stylus Pro 7900 Color Printer
---
Digital Press
Xerox 770 Digital Color Press

The Xerox 770 Digital Color Press with Xerox Freeflow RIP easily handles short run color and variable data jobs with superior quality.

Xerox I-Gen 4 Digital Color Press

The New I-Gen 4 is state of the art, produces high-quality print , and is capabale of running heavier stocks at faster speeds on sheet sizes up to 14.33" x 26". Variable data projects are a perfect fit to utilize all of the options our I-Gen has to offer.
---
Pressroom
ADAST Model 755C Automatic

19" X 26" 5 color with inline aqueous coating.

Shinohara 75V HC

23 x 29" 4 color perfector.

Heidelberg Quickmaster 46-2

Heidelberg SBGZ22.5" x 30.25" cyllinder die cutting press

SPM In-line Thermographer

XtraCoat Offline UV CoaterOffline high gloss UV coatings up to 29" wide.
---
Bindery
ADAST MS 115 MS Computerized 45" Cutters

45" EM Polar Computerized Cutter

52" Lawson Computerized Cutter

Baum Folder 19.25" x 26"

with 8 page cross carriage, gatefold and knifefold attachments

MBO 23" x 35" Folder with 2 Right Angle Attachments

Stahl Folder 23" x 35"

with two right angle attachments.

Duplo System 5000 Dynamic Booklet Maker

with 20 Bin Collator, Trimmer, Stacker and Knifefold attachments.

Rosback Model 318 Saddle Stitcher

with saddle extension, 6 pocket feeder, and 3 knife trimmer..

Interlake Heavy Duty Side/Saddle Stitcher

Challenge MS-5 Paper Drill Model5 hole, hydraulic

Sterling Punchmaster 20 Automatic High Speed Punch System

This high speed punch can deliver any type of hole pattern you should require.

Kansa Padder

Automatic Padding Machine

Seal Brands ProSeal 44" Pouch Laminator

for laminating posters and mounting to foamcore.

Tex Wrap 2219 Semi-Automatic Shrinkwrap Machine

GBC Plasic Spiral Binding System

Renz Wire-O Binding and Plastic Spiral Binding

Other Essential Binding Equipment
---
Lettershop
Domino L-400 Printing System

Sartori Bulk Mailer Software

Secap T2000 Inline Tabbing Machine

Accufast KT2 Dual Head Tabbing Machine

Pitney Bowes Addressright DA950 Envelope Printer

Pitney Bowes DI600 Inserter

Mosca Romp-4 Automiatic Strapper